Facebook Patent | Interactive Spectating Interface for Live Videos
Patent: Interactive Spectating Interface for Live Videos
Publication Number: 20180359295
Publication Date: 2018-12-13
Applicants: Facebook, Inc.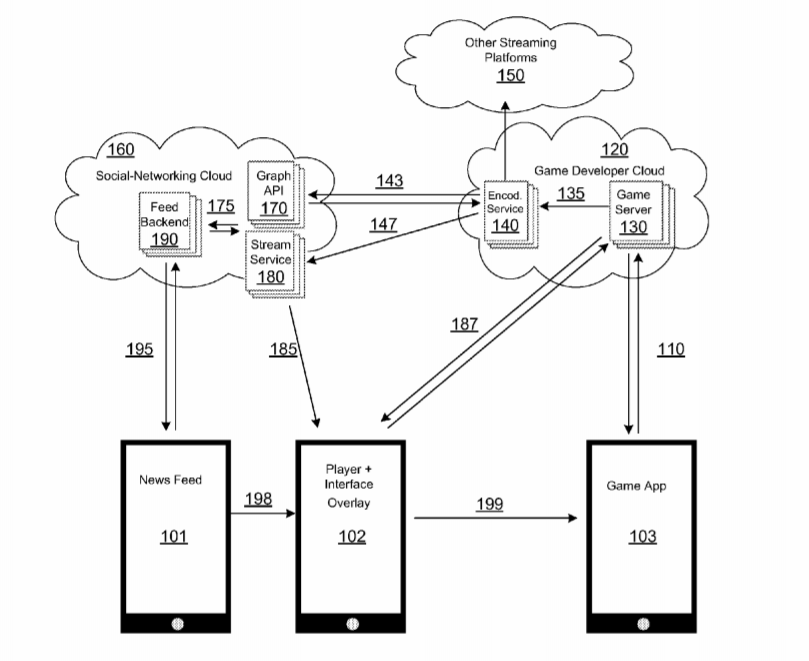 Abstract
 In one embodiment, a method includes a system receiving, from a third-party system, a first request to publish a live video. The system may receive a second request for content from a user device and, in response, transmit display instructions and one or more network addresses from which the live video and an interface application are available. The display instructions may be configured to cause the user device to: configure a video player application to display the live video obtained using at least one of the one or more network addresses; and configure the interface application, obtained using at least one of the one or more network addresses, to be displayed over at least a portion of the live video and to communicate with the third-party computing system.
BACKGROUND 
Users of a social-networking system may publish a live video through the social-networking system. The video content may be sent to the social-networking system from any source, including the user's own mobile device or computer, a third-party application and its server, a third-party streaming service, among others. The social-networking system may publish the live video on a web site or through an application associated with the social-networking system. Other users viewing the live video may post comments relating to the live video on the social-networking platform.
A social-networking system, which may include a social-networking website, may enable its users (such as persons or organizations) to interact with it and with each other through it. The social-networking system may, with input from a user, create and store in the social-networking system a user profile associated with the user. The user profile may include demographic information, communication-channel information, and information on personal interests of the user. The social-networking system may also, with input from a user, create and store a record of relationships of the user with other users of the social-networking system, as well as provide services (e.g., wall posts, photo-sharing, event organization, messaging, games, or advertisements) to facilitate social interaction between or among users.
The social-networking system may send over one or more networks content or messages related to its services to a mobile or other computing device of a user. A user may also install software applications on a mobile or other computing device of the user for accessing a user profile of the user and other data within the social-networking system. The social-networking system may generate a personalized set of content objects to display to a user, such as a newsfeed of aggregated stories of other users connected to the user.
A mobile computing device–such as a smartphone, tablet computer, or laptop computer–may include functionality for determining its location, direction, or orientation, such as a GPS receiver, compass, gyroscope, or accelerometer. Such a device may also include functionality for wireless communication, such as BLUETOOTH communication, near-field communication (NFC), or infrared (IR) communication or communication with a wireless local area networks (WLANs) or cellular-telephone network. Such a device may also include one or more cameras, scanners, touchscreens, microphones, or speakers. Mobile computing devices may also execute software applications, such as games, web browsers, or social-networking applications. With social-networking applications, users may connect, communicate, and share information with other users in their social networks.
SUMMARY
Embodiments disclosed herein relate to systems and methods that enable users of a content-distribution platform (e.g., a social-networking system) to not only passively view live content, but also to actively engage with, e.g., other viewers, the content originator, as well as the content itself. The act of passively viewing or spectating is therefore transformed into an interactive experience. Further, embodiments disclosed herein enable third-party developers to control and customize the interactive experience for their specific live content. In particular embodiments, a social-networking system may provide a framework through which a developer may publish live video and provide an interactive spectating interface. The interactive spectating interface may be overlaid on top of the live video. The interface may contain a transparent portion that allows a user to see the live video underneath. The interface may be custom designed by the developer to communicate with the developer's system and provide interactive features that are tailored for the developer's live video.
The embodiments disclosed herein are only examples, and the scope of this disclosure is not limited to them. Particular embodiments may include all, some, or none of the components, elements, features, functions, operations, or steps of the embodiments disclosed above. Embodiments according to the invention are in particular disclosed in the attached claims directed to a method, a storage medium, a system and a computer program product, wherein any feature mentioned in one claim category, e.g. method, can be claimed in another claim category, e.g. system, as well. The dependencies or references back in the attached claims are chosen for formal reasons only. However any subject matter resulting from a deliberate reference back to any previous claims (in particular multiple dependencies) can be claimed as well, so that any combination of claims and the features thereof are disclosed and can be claimed regardless of the dependencies chosen in the attached claims. The subj ect-matter which can be claimed comprises not only the combinations of features as set out in the attached claims but also any other combination of features in the claims, wherein each feature mentioned in the claims can be combined with any other feature or combination of other features in the claims. Furthermore, any of the embodiments and features described or depicted herein can be claimed in a separate claim and/or in any combination with any embodiment or feature described or depicted herein or with any of the features of the attached claims.